Newly refurbished video production facilities in heart of Central London.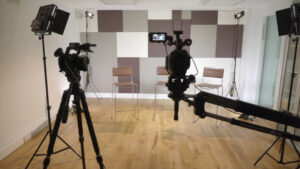 Our new boutique video production facilities couldn't be better located, right between Trafalgar Square and Leicester Square. There's a range of public transport to reach us with ease and parking on the doorstep. It's a fantastic place to work, and when you're finished, plenty of great shops, bars, restaurants and places to explore.
If you need a space to film in we can support smaller productions such as webcasts, portraits and packshots. The studio isn't a sound stage but we find the acoustics are very good, with various backdrops (including green screen) and large monitors for logos and content to be displayed on. We're fully equipped with the latest kit and various lighting solutions are also available for almost any scenario.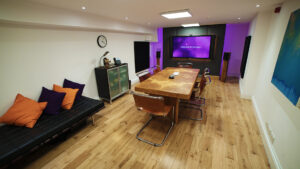 Our second space doubles as an edit suite/colour grading suite and boardroom/meeting space. It contains a super large 65" plasma screen for video conferencing and presentations. It's a really useful space for meetings, rehearsals, script read throughs, training, etc.
Our studios are very flexible and centre around a convenient meeting/kitchen area. This works as a handy break out space with complimentary Wi-Fi, drinks and kitchen facilities.
We love a challenge, so let us know what you need and we'll have a solution to help.