Completing your video or film project with @Voytek will give you access to the latest broadcast and cinematic quality technologies that allow you to be confident of the quality and effectiveness of every production.
Our Central London post-production and production facilities, VStudios, are state of the art, handling all leading formats and video codecs. Our dedicated editing servers, systems, software and 4K+ workflow means we're able to edit and process footage in real-time. This allows our editors and content designers the speed to experiment and collaborate with our clients - delivering immediacy and flexibility.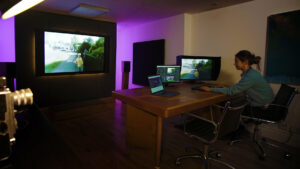 Post production is where all the footage, music, VO, graphics and other assets for a production are assembled and polished into the final video. Our luxury boutique edit facility is a great place to work and create – and includes a stunning 65" playout screen so you can see your production assembled in vivid clarity with stunning colour and deep blacks.
Working alongside some really creative (and fast) award-winning professionals means you can iterate freely, choosing clips, arranging sequences, and telling your stories in best ways. Our state of the art technology frees you from having to wait for effects to render or video to become available – giving you greater control and creativity.
We also have the technology to connect to the edit suite remotely. You can see the timeline, hear the audio and talk directly to the editor from anywhere in the world.