@Voytek have the latest range of professional broadcast cameras and post-production facilities, all centrally located in our new London Studios.
If you're looking for video crew hire, our qualified and talented operators, technicians and creatives are always on hand to make your next production stand out. @Voytek are ready to help you with your next filming project, no matter what size of camera crew you require.
Need a film crew? Look no further! Whether you need a single camera operator to interview your CEO, a multi-camera crew to cover your next event, or a fully rigged studio production, @Voytek have the crews, kit and experience to make it happen.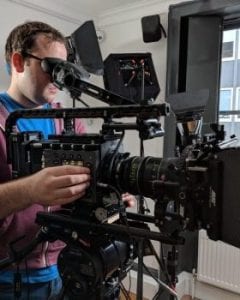 Our relationship with Sony means we carry the latest range of camera kit and ancillary gear, so we can choose the right equipment for your production and budget. We're also experienced on the latest camera kits including Alexa, RED and Canon. As well as the best cameras, our crews access a range of optics, including prime lenses for that cinematic feel, comprehensive lighting kits, tracking, jib, Steadicam, drone and dedicated time-lapse camera equipment.
And because we also offer a complete video production service, you can pick and choose from any other of our extensive range of people and services. These include Producers, DoPs, Directors, Camera Assistants, Sound Recordists, Designers, Motion Graphics Artists, Researchers, Runners, Writers, Casting, Design, Grips and Lighting specialists. Our global supply chain and experience of overseas filming logistics allows us to deploy crews anywhere in the UK or the world, often at short notice - even with current restrictions Covid-19 has put on overseas work.
We have a wealth of experience across many genres, including reportage (ENG), documentary film making, drama, music and events.
All with a smile and unwavering commitment to make your video production the best it can be.