Whether it's a traditional, or an online event,
getting the content right is essential.
The events industry has been particularly hard hit by the pandemic and we are in full support of our colleagues across the sector. We're looking forward to live events getting back to normal, but in the meantime, we're still providing a range of safe video services, alongside our fresh and creative approach.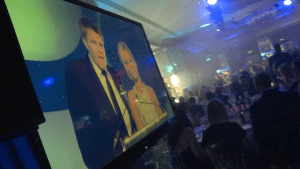 To cover your event, we can use multiple cameras to provide a live, mixed output to stream, or use as show relay. A wireless ENG roving crew can get close to the action and record vox pops to capture the atmosphere, while using a jib or crane can inject excitement and give a front row feel. We tailor the solution to meet your audience's expectations and your budget, and we have plenty of ideas that will inspire guests
We're a local, friendly company with a global reach, having made videos for clients on every continent. We have first-hand experience in managing the logistics and permissions required to film in most countries and have the connections to ensure we can deploy film crews anywhere, even at short notice.