Creating engaging video productions safely
We all hope that Covid-19 will soon be behind us. Throughout the pandemic we continued to film both on location in the UK and overseas and at our premises and are proud to have maintained a zero infection rate. Whether filming in operating theatres or flying helicopters in the Caribbean, we've always taken safety very seriously.
Filming
A risk assessment ensures the safest possible environment and lowest disruption to getting the job done!
Rigorous project planning ensures everyone knows who does what, and filming is completed safely and without fuss.
Safety measures and PPE relevant to the location and conditions
We understand and respect your regulations and policies.
We are connected with national and global affiliates so we can film anywhere, anytime, respecting local regulations.
A range of technical solutions for recording, including remote monitoring, so you can watch the output of our cameras, live, from anywhere in the world!
And if you're still unsure about filming, talk to us about animation, graphics, podcast or VO solutions that can help you be closer to your audience.
Editing
Our purpose-built edit suites are open! You can edit safely with our customised wet hire post-production offering. On-site facilities include: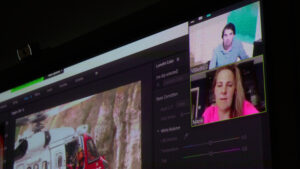 Comfortable client area, with monitoring separate from the editor.

PPE available 

Dedicated client washroom facilities.

Wi-Fi and refreshments.

Staffed with the most creative and speedy talent in town.
And if you prefer, you can take part in the edit remotely, using our online live client system. You can discuss edits, see the timeline and output in real time. All you need is a device with an internet connection.
Our lightning specs:
Stunning 65" playout screen for previewing and premieres

Calibrated Eizo broadcast monitor for SDR and HDR grading with DaVinci Resolve and Lumetri

18+ core multiprocessor 5GHz PCs, fully rammed

10Gbps and 25Gbps server connections for multi-stream HD, 4K and 6K real-time editing

Frontline, near line and LTO archive systems

Adobe Premiere Pro, Avid Media Composer and Final Cut Pro

Adobe Creative Suite, including After Effects

3D software - Maya, Cinema 4D and anything else you need, just ask.